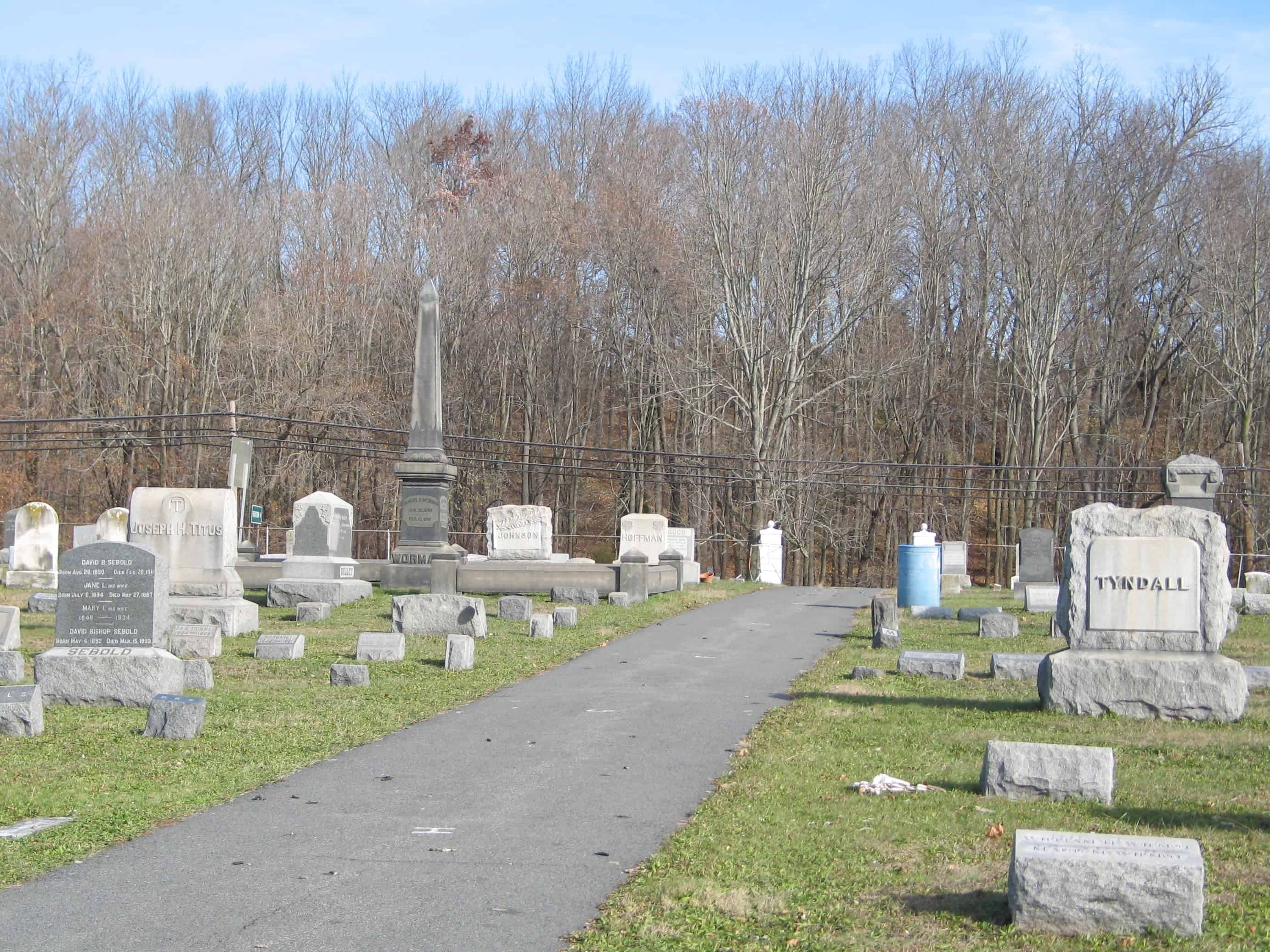 Before reading this post don't miss the part I of Delaware's Cemeteries.
SEMI – PUBLIC CEMETERIES
These are fairly large cemeteries that are seemingly public, but the organization that created the cemetery has gone out of existence. As a consequence, maintenance of these cemeteries is problematic, often relying on the work of volunteers.
BARBER CEMETERY
Located on the Lambertville-Headquarters Road, this cemetery, one of the oldest in the township, was begun by members of the Barber family who settled in the area as early as 1740. When Samuel Barber died in 1751, he left his farm to his wife Eliada until his minor children were 21. It was offered for public sale in 1766, and was purchased by Samuel's son John (c.1720-1795).
Barber Cemetery is a good example of a family burying ground that grew into a semi-public cemetery. It starts with extended family members being buried there, and then rippling out further and further. One  wonders if it might be possible that everyone buried in this large cemetery might be distantly related.
John Barber and wife Magdalen Johnson had 8 children. Their daughter Susannah (1744-1779) married John Lambert (1746-1823), who later became a U. S. Senator, and whose grave can be seen in the Barber cemetery. Another daughter Mary (1753-before 1785) married John Lambert's cousin Gershom Lambert (1764-1847), who was also buried in the Barber cemetery.
Both Susannah and Mary Barber died as young women and presumably were buried in the family burying ground, but their stones cannot be found. Presumably John and Magdalen Barber are there too, as well as Samuel and Eliada Barber. These 18th century stones are the most fragile, the least likely to survive.
Both John and Gershom Lambert are two of the most interesting Delaware Twp residents in our history. Gershom, known as Long Gershom, to distinguish him from other Gershom Lamberts in Amwell Township, was a carpenter who helped to build extra boats to ferry Washington's army across the Delaware. John Lambert, who went to the U. S. Senate as a Jeffersonian Republican, bucked his party and voted against the War of 1812.
One of the township's Revolutionary War veterans buried here was Samuel Barber, brother of John Barber. He was 90 years old when he died in 1847. His two wives, Mary and Nancy Hoppock, were the daughters of another Revolutionary War veteran, Capt. Cornelius Hoppock, who may have also been buried here. Samuel Barber became a member of the Assembly when he was 60 years old. He and his two wives had 9 children, some of whom are also buried here.
Two other Revolutionary War veterans were John Wilson (died 1822 age 68) and Caleb Farley (died 1808 age 51). There are many more people here of interest to Delaware's history. There are members of the Van Dolah family and their slave Jack, who was buried, according to family tradition, with other African Americans outside the cemetery walls.
The cemetery is currently maintained by remnants of the Barber Cemetery Association and is still accepting burials (for details, call Frank Hooven at 609-397-3319).
LOCKTOWN BAPTIST CEMETERY
In 1819, Daniel Rittenhouse of Kingwood conveyed a lot to the trustees of the Kingwood Baptist Church to use for a cemetery, along with another lot to use for a new church.
The church was built soon afterwards, but the cemetery was probably already in existance, because the earliest known burial in this graveyard is Daniel Rittenhouse's son George, who died in 1808 before reaching adulthood.
The next to be buried here was John Heath (1723-1818/19), who was 93 when he died. He was the grandson of one of the earliest settlers in West New Jersey, Andrew Heath (c.1660-1720). His father and brother (both Andrews) were among the earliest settlers in today's Delaware Twp., owning large acreage in the Locktown area. The name of John Heath's first wife is not known, but she must have died about 1775, long before the Locktown cemetery came into use. They had 11 children, but none of them seem to be buried here.
Another John Heath buried here lived from c.1750 to 1827, the nephew of the first John Heath. He was known as Capt. John Heath, but I do not know where he got his military experience (in the Revolution or in the county militia afterwards). His wife, Jane or Jean Lake, daughter of Garret Lake, died about 1817, but her stone has not been found here. John and Jane Heath's son Garret Heath (1786-1862) is here with wife Dinah Shearman (1787-1849). But none of John Heath's other children are here.
Many of those buried here lived in Kingwood Township, as the burial ground is very close to the border between Delaware and Kingwood, and members of the Locktown Baptist Church came from both Kingwood and Amwell Townships.
One of these was Richard Heath (1759-1849), brother of John (1750-1827). Richard was married to Catharine Rittenhouse (1762-1830) who is also buried here. She was the daughter of William and Rebecca Harnet Rittenhouse, and granddaughter of the first Wm. Rittenhouse who purchased 400 acres  in the vicinity of Locktown in 1733. Richard and Catharine Heath had 10 children. Son William (1782-1841) and his wife Nancy Rittenhouse (1795-1878) are buried here. Also son Daniel (1791-1878) and wife Rebecca Sherman (1796-1879), and son George D. Heath (1802-1850) and wife Mary Heath (1810-1900), daughter of Elijah Heath (c.1770-aft 1830).
Benjamin Rittenhouse (1747-1821), brother of Catharine Rittenhouse Heath, is buried here, along with his second wife Cathrina Johnson (1753-1834). They lived about a mile north of Locktown.
Right now, this cemetery depends on the good work of a young man named Ryan Bailly, who lives across the road. He has voluntarily taken on the job that had been performed by the Locktown Grange for many years. Ownership of the cemetery is still in the hands of the American Baptist Churches of New Jersey, which has done nothing about maintaining it.
SAND BROOK CHURCH CEMETERY
Sand Brook cemetery is much younger than the Barber and Locktown Baptist cemeteries. It was originally connected with the Amwell Church of the Brethren established in Sand Brook in 1848 by followers of Elder John P. Moore (1811-1889), who is buried here with his wife Anna Pierson (1809-1892). The lot was conveyed to the church by Hiram and Amanda Moore in 1849. The congregation was often called the "Moorites" but their own name was the United Christian Church. Many members of the congregation are buried here.
There is at least one person buried here who died before the church was established: Delilah Rockafellar (c.1805-1831), wife of George Fauss (c.1804-1877) who is also buried here. Either this was a cemetery before the church was organized, or Mrs. Fauss was buried elsewhere and reburied here.
One of the earliest to be buried here after the church was established was George B. Horn (1825-1853) who was only 28. He was the son of Benjamin Horn (c.1797-1874) and Sarah Bearder (c.1796-1855), both of whom are also buried here. Benjamin Horn was a member of the first Delaware Twp. Committee in 1838, and served as moderator at the township meeting held in 1840. He was a well-known chairmaker who owned land in Sand Brook and along Plum Brook near Ferry Road.
Jacob Moore (1782-1858), a local farmer, is here and wife Elizabeth Sine (1789-1874). Also their daughter Amy (c.1809-1894) wife of Caleb F. Wolverton (1809-1878), and daughter Delilah Moore (1829-1905) wife of Thomas Dalrymple (1837-1910).  There are at least 36 members of the Moore family here.
There are some who died elsewhere and ended up here. Barton Williamson, born in Delaware Twp. in 1875, died in South Bend, Indiana in 1956. His wife, Jennie Reed, was born in 1880 and died in 1850 in Tucson, Arizona. Both are buried here. They lived on the old Williamson farm along Rte 523 north of Sergeantsville before moving west sometime after 1900. Barton's parents are here too: Asher V. Williamson (1841-1926) and Anna Jane Hummer (1842-1929), and his uncle Israel P. Williamson (1850-1932).
The Sand Brook Cemetery is still an active cemetery. Edward and Anna Jurasek were buried here in 2007. Maintenance is the responsibility of the Sand Brook Cemetery Association.