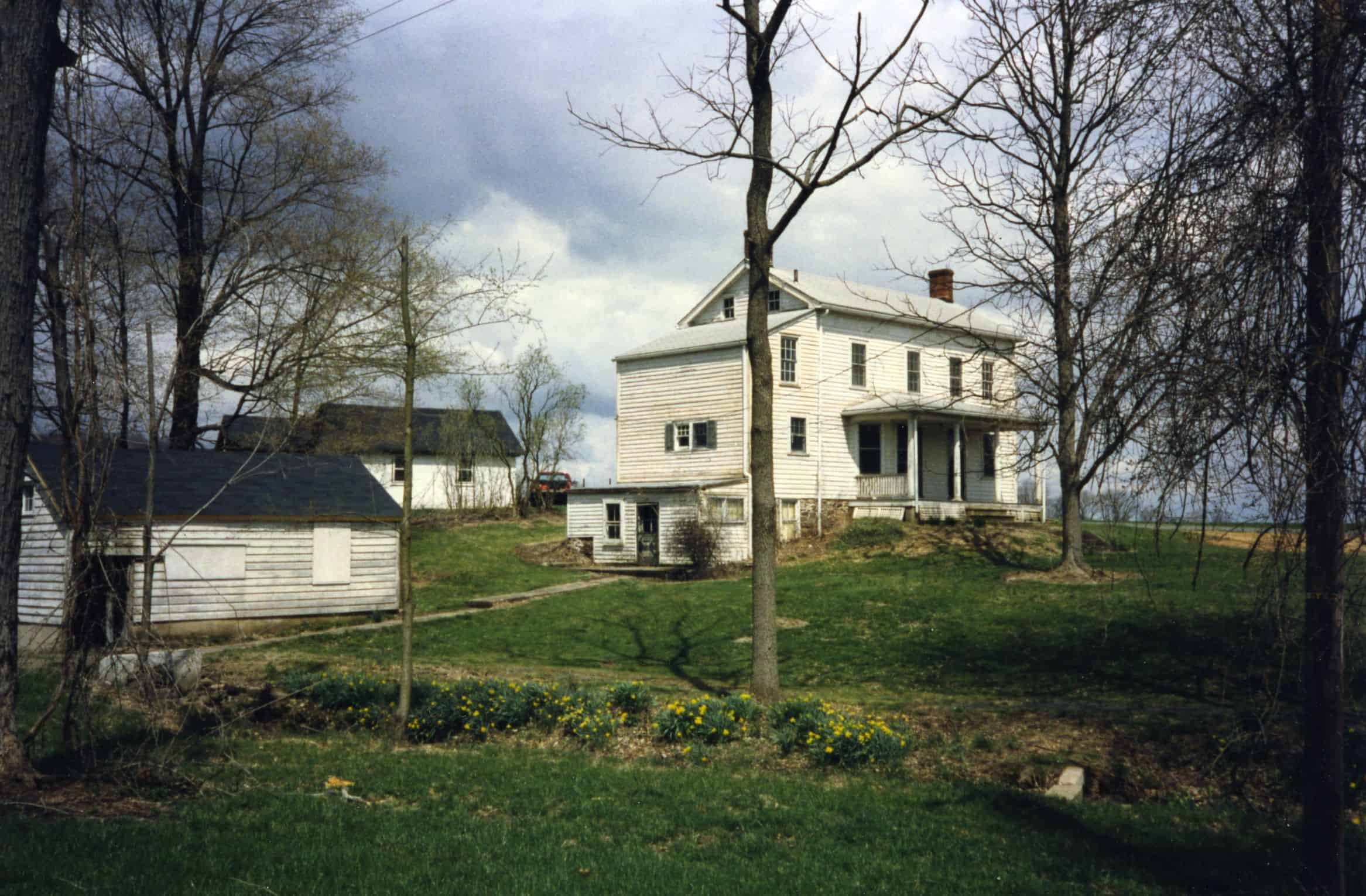 The flowers planted in the right of way along Rosemont-Ringoes Road are just the most visible signs of new life in this old hamlet. They are one of several cooperative efforts by Roger Byrom, who owns the farm associated in legend with General Washington, and Marilyn and Kenneth Cummings, who built a home on a lot subdivided from the old farm.
The Cummings are also founding members of the Delaware Township Historical Society. Their home, a comfortable evocation of the colonial vernacular style, reflects their interests in local history. Their many interests and activities include cataloguing and measuring the township's historic buildings, and collecting and passing on the history of the township.
Roger Byrom, who owns the mill and farm house and other outbuildings, has several irons in the fire. "I want to take the house back to 1758", by removing some of the additions that have been made through the years. Mr. Byrom is raising sheep, organically, except for the de-worming. He hopes to make the mill work again, although two centuries of development have played havoc with the supply of water power. The mill run was diverted in the 1970's: "One of the neighbors back then owned a bulldozer". Generally, throughout the Township, sites that once had working mills now have only a sporadic supply of running water.
But the mill machinery is intact. The Delaware Township Historical Society held its September meeting in the mill. Mr. Byrom says: "one of our neighbors came to that meeting, and she said 'I've waited 58 years to step inside this mill', and she was pleased that there was still something there to see".
On the morning I visited Headquarters, Roger Byrom and Ken Cummings were out in the fields planting shrubbery for hedgerows. Mr. Cummings said "you can tell the age of a hedgerow by the number of species living in it. These are still young, but we intend to be around until they get somewhat older".
Besides cataloguing the old buildings, Marilyn Cummings is interviewing the oldtimers in the area. "Henry Quick has lived here his entire life" so far. "Tom Lambert, too; his family used to own all this land. Ben Zentek lives on the Corner of Zentek and Lambert Road. He can remember the mill when it was working". Mr. Byrom says "there are a lot of people here who know the history, and they can help us document the area".
Together, Roger Byrom and Kenneth and Marilyn Cummings are applying to have the old hamlet listed on the State Historic Register. They point out that a state historic designation places no burdens or regulations on homeowners, businesses or churches. Rather, the only regulation involved is a limitation on any government projects that would have a negative impact on an historic feature.
The Delaware Township Historical Society is entering its third year. Marilyn Cummings notes: "at our first meetings, there were lots of people who came because they were worrying about what we had in mind in terms of putting them in a legal bind". In fact, in the 1980's the Township had a historic preservation ordinance that limited property owners' choices of paint colors and building materials on historic buildings in Sergeantsville. That ordinance has since been rescinded and there is no plan to draft another one.
Roger Byrom says: "I'm a conservationist and preservationist. I've been active in London and Manhattan. When I talk to my neighbors about what I want to do on the farm they all say 'great': wildflowers, hedgerows, sheep, the mill. I think leading by example is a good way to show people there are only benefits, no downsides".